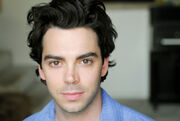 William Sees "Will" Keenan (born September 14, 1974) is an American film producer, actor, director, writer, stuntman, online video executive and author of "The Tao Of Will". Keenan has acted in and worked on producing more than 25 independent films made in New York City, Los Angeles, India and France which have screened worldwide.
Background
Edit
Keenan was born September 14, 1974 in Philadelphia. During his teenage years, Keenan was given the Hugh O'Brien Youth Foundation Award and the Presidential Classroom Award.
Keenan attended New York University while majoring in theater and studying psychology, philosophy and dance. After performing Off and Off-Off Broadway in critically acclaimed avant-garde dance theater troupes, he began his movie career by starring in underground and cult movies, performing lead roles in Tromeo and Juliet, Terror Firmer (portraying the cinema's first hermaphrodite serial killer) and the first fully digital feature film, Love God (Good Machine now Focus Features). Some of his starring and producing credits include Politics of Love, The Ghastly Love of Johnny X, Chop, Terror Firmer, Margarita Happy Hour, The Love Machine, Hoofboy, OMC, Hisss and Trick.
On July 23, 2003 Keenan married Getty contributor and celebrity photographer Stefanie Imhoff. The couple lived in Hollywood, California for seven years at a yoga hermitage.
Before 2000
Edit
In 1998 Keenan produced and programmed a 10-day arts exchange between New York City and Philadelphia named PhillyHoverground at locations throughout Philadelphia including International House and the Shubert Theater. The festival program consisted of art, theatre, dance and film screenings including the city's first public theatrical screenings of Trey Parker and Matt Stone's "Cannibal The Musical" and Harmony Korine's "Gummo".[1]
Keenan was an invited participant in the 2000 Sundance Institute Film Labs and won a Best Actor award at the Brooklyn International Film Festival in 2002. Keenan worked under the company name Hoverground in New York City, and, until 2011, under the company name Nuclear Mango in Los Angeles. Keenan was invited to give a featured keynote appearance in Las Vegas for the inaugural Netroots Nation blogger convention in 2005, produced a viral video campaign for the convention and spearheaded the launch of the Netroots Nation screening series program the following year.[2][3]
Stunt work
Edit
Keenan performed numerous stunts throughout his career in various independent films. OMC, co-directed by Keenan, has garnered positive reviews for Keenan's acting and stunt-work. Keenan's trademark stunt is getting hit by a car. During a 2004 Video Software Dealer's Convention in Las Vegas at which actor/comedian Jerry Lewis was the keynote speaker, Keenan played a prank on Lewis involving the latter's book ("Dean and Me: A Love Story") which was reported in Page Six of the New York Post.[4][5][6]
Hollywood
Edit
In 2007, Keenan was an originating creative and development producer for the film "Poor Things" which derailed at the same time co-star Lindsay Lohan was involved in a car accident and subsequent rehabilitation. Shirley MacLaine, Olympia Dukakis, Rosario Dawson, Christopher Walken, Giovani Ribisi and Channing Tatum were all attached to the picture throughout its history. The film was highly reported in the media during its preproduction. [7][8]
In 2012, Keenan's starred in the independent black and white feature "The Ghastly Love Of Johnny X," which co-stars NBC's The Office's Creed Bratton. In 2011, Keenan starred in the independent horror-comedy, "Chop", the directorial debut of Trent Haaga.
Bollywood
Edit
Keenan was a consulting co-producer for the Indian-American production "Hisss" (2010). Keenan produced three songs and two videos for the "Hisss" soundtrack in an east-west collaboration, bringing together artist Dave Kushner of American super-group Velvet Revolver with Indian actress/singer/lyricist Shruti Haasan, Julian Lennon with Mallika Sherawat and Panjabi MC with Filmfare Award-winning Indian singer/performer Shweta Pandit. In 2009 Keenan created the Indo-American production company and consultancy partnership Nuclear Mango and sold his stake in the company in 2011.[9][10][11][12][13]
Keenan is credited as a development consultant on big-budget Bollywood film, Ra.One starring Shah Rukh Khan as well as the 2012 remake of Agneepath starring Hrithik Roshan and Priyanka Chopra. Keenan co-starred in the German-Indian co-production "Indisch Fur Anfanger (Mission India)" with German celebrities Henning Baum and Wolke Hegenbarth.
Maker Studios
Edit
In 2011, Keenan was recruited for an executive position at top YouTube MCN (Multi-Channel Network) Maker Studios. Keenan created and launched PoliPop, an entertainment & politics network. In 2012, Keenan was promoted at Maker Studios to Director of Programming, Network Optimization. In 2013, he was named Vice President of Vertical Development, Network Programming.
On November 20, 2013, the major entertainment industry trade press announced the choice of Will Keenan as the first President of Endemol's newly created 40 million dollar digital division, Beyond, in the United States. He was named one of the "25 Top YouTube Business Power Players for 2013" by ReelSEO. Singer Courtney Love became Will Keenan's first talent signing to EndemolBeyond.[14][15]
Filmography
Edit
References
Edit
External links
Edit