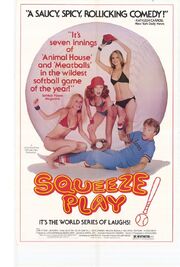 Squeeze Play! is a 1979 comedy film from Troma Entertainment directed by Lloyd Kaufman and Michael Herz. It was Troma's first major hit before The Toxic Avenger, and the first in a line of four "sexy comedies", followed by Waitress!, Stuck on You!, and The First Turn-On!.
A group of New Jersey women, upset over their boyfriends' tendency to pay more attention to softball than their love lives, decide to beat them at their own game...literally. The girls form their own softball team and challenge the men to a match out on the field. The men initially scoff at the idea, but soon grow nervous when they worry that they'll lose face if they refuse to play.
Production
Edit
The idea of Squeeze Play! came from one of Troma's distributors, who suggested that Kaufman and Herz should make a movie about a women's softball team and their amorous adventures. Kaufman added the comedy element, and along with his brother Charles and screenwriter Haim Pekelis, a 75-page sceenplay was finally worked out; the Kaufmans provided the ideas for sight gags and jokes, and Pekelis worked out the plot.
Reception
Edit
Once Squeeze Play! was completed, the reactions were almost unanimously negative. Major studios refused to distribute it, and two of the film's executive producers demanded to have their names taken off of it.
Squeeze Play! finally made its theatrical debut as a double feature with The In-Laws in Norfolk, Virginia to tremendous success. The film built up a steady following in Virginia before being widely distributed nation-wide. The film was constantly in Variety's top 50 list and received excellent reviews from both The New York Times and The New York Daily News.
The profits made from Squeeze Play! alone helped Kaufman and Herz buy the "Troma Building", their Manhattan offices, where they did business for 24 years before relocating to Long Island City, Queens.
External links
Edit