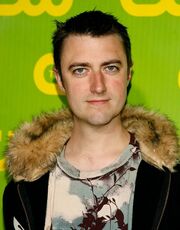 Sean Gunn (born May 22, 1974) is an American actor, most famous for his role as Kirk Gleason on the television show Gilmore Girls (2000–2007). He is the younger brother of actor/filmmaker James Gunn.
Early life
Edit
Born and raised in St. Louis, Missouri, Gunn comes from an Irish Catholic family Script error with four other brothers and one sister. Most of his brothers are following careers in the entertainment industry. His brother James Gunn is a screenwriter/director (as well as the ex-husband of Jenna Fischer, who took acting classes with Sean when they were children),[1] and Patrick Gunn is an executive producer for Artisan Entertainment.
Gunn attended the Jesuit St. Louis University High School (class of 1992) and graduated from The Theatre School at DePaul University. After graduation, he started a theater company with friends. Script error. Though the surname Gunn is usually Scottish, Gunn's name is from the Irish name MacGilGunn meaning "Sons to the Servants of the God of the Dead, therefore Gunn means "God of the Dead" [2]
In 1995 Gunn played Sammy Capulet in the B Film Tromeo and Juliet.
In 2000, Gunn guest starred in the second episode of Gilmore Girls as "Mick", a freelance worker that does many things. As the first season continued, Gunn was brought back to play the recurring role of Kirk Gleason, one of Stars Hollow's most eccentric citizens. Since 2002 until the end of the series in 2007, Gunn was a regular cast member of the show. He also has a recurring role on October Road as "Rooster".
Although he is best known for his regular Gilmore Girls role, he also has several television show guest appearance credits, including Angel, 3rd Rock from the Sun, Yes, Dear, True Jackson, VP, Andy Richter Controls the Universe, and Bunheads. Gunn is currently seen in commercials as an "agent" for the text message information service KGB.com. In films, Gunn has also had several roles, the most substantial being "Alien Orphan/Doug" in The Specials, for which he also received a co-producer credit. Script error
In 2003, Gunn starred in the featurette The Man Who Invented the Moon, directed by fellow Goodman School of Drama alum and Gilmore Girls cast member John Cabrera. Gunn and Cabrera have been close artistic colleagues since their school days in Chicago back in the mid-nineties.Script error
Along with his brothers James and Brian, he is a creator and actor in the spoof porn series, PG Porn. He also had a brief role as a computer maintenance man on the Nickelodeon show, True Jackson VP. Gunn starred in a series of television commercials for Knowledge Generation Bureau. He appeared in the 2010 film Super, written and directed by his brother James.
Sean is also the voice actor behind the character of "Swan" in the Warner Brothers video game Lollipop Chainsaw, written by his brother James.Script error
Gunn guest-starred in Glee ("Makeover", Season 4) as committee member Phineas Hayes.
In 2013, he provided motion capture work for the characters of Rocket Raccoon, Thanos and Kraglin for the film Guardians of the Galaxy,[3][4] which was written and directed by his brother as well. The characters was later voiced by Bradley Cooper and Josh Brolin.
References
Edit
"Gunns Hit Their Target in Hollywood" by Mary Delach Leonard. St Louis Post-Dispatch. March 23, 2003. p. E1.
External links
Edit