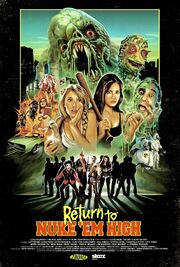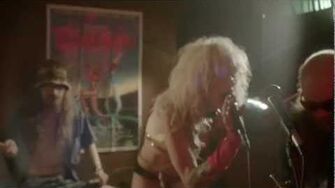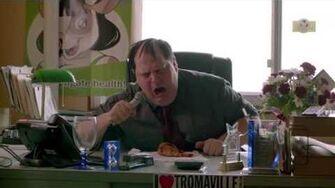 Return to Nuke 'Em High Vol.1 is a 2013 American science fiction comedy horror film, made by the cult classic B-movie production group Troma Entertainment. It is directed by Troma co-founder Lloyd Kaufman and the fourth in the Nuke 'Em High film series.
Welcome to Tromaville High School where, unfortunately, the glee club has mutated into a vicious gang called The Cretins. Chrissy and Lauren, two innocent bloggers, must fight not only the Cretins, mutants and monsters but also the evil Tromorganic Foodstuffs Conglomerate. Will they save Tromaville High School and the world?
Asta Paredes as Chrissy
Catherine Corcoran as Lauren
Vito Trigo as Leonardo
Clay von Carlowitz as Eugene
Zac Amico as Zac
Mike Baez as Donatello
Tara E. Miller as Rachel Ruysch
Lemmy as The President
Lloyd Kaufman as Lee Harvey Herzkauf
Babette Bombshell as Principal Westly
Dan Snow as Cigar Face
Production
Edit
A fourth movie in the series titled Class of Nuke 'Em High IV: Battle of the Bikini Subhumanoids was initially announced in 1996. Troma ran a script-writing contest that invited fans to contribute two pages with a weekly winner announced and added to the collective screenplay.[1] Despite a script being finished in 2000, this project never got past the pre-production stage.
Troma again announced production of the sequel in October 2011. Initially it was stated the film would be made in Spain by Mushnik's Entertainment in collaboration with Chaparra Entertainment. The directors were to be Marc Gras and Dani Moreno.[2] However, this version also never came to fruition.
Kaufman began production anew in 2012, directing the film himself in New York and New Jersey. Casting took place throughout June 2012. For the first time, Troma relied on Kickstarter to raise a small amount of funds to support "animal actor" Kevin the Duck.[3] Principal photography began in August 2012 and finished in September 2012.[4]
The film was slated to be a single film until Quentin Tarantino's suggestion that Kaufman split the film into two volumes, à la Kill Bill.[5]
Reception
Edit
The film began a limited North American theatrical release in the fall of 2013, beginning with a screen at the Museum of Modern Art.[6] It expanded in January 2014.
Reviews were generally positive with the film generating a 67% fresh rating on Rottentomaotes.com. Variety deemed it "a hearty blast of Troma-branded schlock"[7] while The New York Times said Kaufman fans "will be delighted to learn that time has eroded neither his love of nudity nor his disdain for political correctness."[8] The New York Post praised the film for its "hilarious series of parodies: Carrie, Soylent Green, Glee, Cat Ballou, you name it."[9] Horror magazine Fangoria gave the film 3.5 out of 4 skulls, calling it "undeniably funny, brave and so unlike anything put out today that it practically demands respect."[10]
References
Edit
External links
Edit