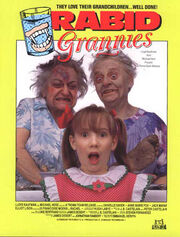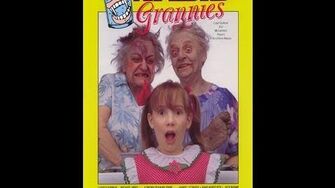 Rabid Grannies (originally Les Mémés Cannibales) is a 1988 Belgian horror film directed by Emmanuel Kervyn.[1]
Two elderly sisters invite their wonderful nieces and nephews to a dinner party in celebration of the sisters' upcoming birthdays. The one nephew who is not invited is the ostracized black sheep of the family whose devil-worshipping activities have resulted in his being removed from the sisters' inheritance. The rest of the guests are merely putting in time; they're really just waiting for their aunts to kick the bucket, leaving them amply endowed via their respective inheritances. But, the nephew sends a party gift that turns the scene into a frolic of the macabre: the aunts turn cannibal and eat up all their guests!
Criticism
Edit
Due to its unusual subject and title and its graphic scenes of gore, 'Rabid Grannies' is one of the most infamous titles in the Troma library.[2]
The film was not only dubbed and distributed in America on VHS and DVD by Troma Entertainment[3], it was also one of the non-American-produced films distributed by the aformentioned company.
The Troma DVD removes a lot of the gore from the feature film. These scenes are available to be seen in the bonus features.[4]
References
Edit
External links
Edit