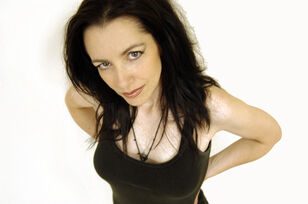 Debbie Ann Rochon
(born November 3, 1968 in
Vancouver
,
British Columbia
)
[1]
is a Canadian
B movie
actress and former stage performer, best known for her work in independent horror movies and counter-culture films.
Biography
Edit
Rochon's early life was fraught with tragedy and misfortune. After her parents were deemed unfit to raise her, she was remanded to foster care at age 10. Shuttled from one foster home to the next, Rochon ran away to Vancouver. When she was 14 and still homeless, she was attacked and robbed by a homeless man, who assaulted her with a knife and slashed her on her upper right arm, leaving Rochon with a large vertical scar.
In 1981, alerted to an open casting call by another homeless youth, Rochon was cast as a rock concert extra in Ladies and Gentlemen, The Fabulous Stains. By age 17, she had saved up enough money to move to New York City. Rochon worked with off-off Broadway theater companies, performing in over 25 stage productions. She garnered her first printed review in Back Stage which read: "Debbie Rochon acquitted her self well as the cocaloony bird in Tennessee Williams' The Gnadiges Fraulein."
Rochon focused on the cinema and worked on over two hundred independent features. The Hubcap Awards founder Joe Bob Briggs crowned Rochon runner-up Best Actress of the year in 1994 for her work on Abducted II: The Reunion. In 1995 she was recognized for her work as the conniving television producer in Broadcast Bombshells, winning the Barbarella Award.
She was a featured guest player on Fox's New York Undercover. In 2002 Rochon was crowned Scream Queen of the Decade (1990–1999) by Draculina magazine, based on reader voting. She also received Best Psychette Award 2002 (Best Female Psycho in a Movie) for her work in Template:Ill. She has won over a dozen more awards for her film work.
She is perhaps best known for her work with Troma Entertainment. First appearing as Edna Purlmutte for the satirical The Troma System, she went on to appear in Tromeo and Juliet, Terror Firmer, Citizen Toxie: The Toxic Avenger IV and episodes of Troma's Edge TV. In November 2006, Troma released Debbie Rochon Confidential featuring previously unreleased footage from Rochon's years working with Troma.
In 2003, while working on an unreleased film in Tennessee, Rochon suffered an accident with a prop machete which resulted in the near-severing of the four fingers of her right hand.[2] After extensive surgery and physical therapy, she has regained limited use of the hand.
In 2004, Rochon won MicroCinemaFest's "Best Comedy Actress" award for her work in Dr. Horror's Erotic House of Idiots.
She also co-hosted the 2005 Village Halloween Parade with Dee Snider. The following year, she and Snider began broadcasting Fangoria Radio on Sirius Satellite Radio, a weekly talk show of horror movie news and reviews. The show ran from 2006 till 2010. She appears regularly at Fangoria's Weekend of Horrors conventions and others.
In 2008 she appeared in new horror ventures, including the Michigan-made film DOG, Savaged, The Colour from the Dark, Psychosomatika, and Beg. She can also be seen in the After Dark-released film Mulberry Street, directed by Jim Mickle, which had a theatrical run as part of the Horrorfest series in 2007.
Rochon resides in New York City and works for the horror magazines Fangoria "((Phantom of the Movies' Videoscope magazine))" and ((Tenebre Magazine)).
One of the most critically acclaimed titles of Rochon's is the Italian-made H.P. Lovecraft-based film Colour from the Dark, in which she plays the possessed wife of a farmer during the war-ravaged period 1943.
She appeared in a 2009 documentary Pretty Bloody: The Women of Horror.[3]
In 2009, Rochon starred as Alice in Slime City Massacre, a follow-up to the cult film Slime City, both directed by Gregory Lamberson.[4] She presented the movie on the Premiere at 2010 Beloit International Film Festival on 18 February 2010.[5]
Rochon is featured in the 2008 novel Bad Moon Rising by Jonathan Maberry. She is one of several real-world horror celebrities who are in the fictional town of Pine Deep when monsters attack. Other celebrities include Tom Savini, Jim O'Rear, Brinke Stevens, Ken Foree, Stephen Susco, Joe Bob Briggs, James Gunn, and Mem Shannon.[6][7][8][9][10]
Rochon appeared in a new feature film by Sean Pomper Productions, Killer Hoo Ha.[11]
Rochon portrayed Madam Won Ton in the 2011 horror comedy film Won Ton Baby! by James Morgart.[12]
Debbie Rochon served as a model for the esteemed illustrator Dave Stevens and appears in his final work, a book titled Brush with Passion: The Art and Life of Dave Stevens.
Model acting
Edit
Debbie Rochon has appeared on countless film-related magazine covers including:
Debbie has written for numerous genre publications including:
As well as a regular column in THE JOE BOB REPORT (Published by Joe Bob Briggs)
Select filmography
Edit
References
Edit
External links
Edit