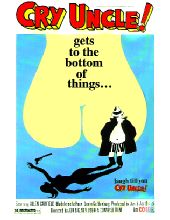 Cry Uncle! (also American Oddballs and Superdick) is a 1971 film in the Troma library. It is directed by John G. Avildsen and stars Allen Garfield. The story, based on the Michael Brett novel Lie a Little, Die a Little, follows the misadventures of a slobbish private detective who is hired by a millionaire to investigate a murder. The movie features one of Paul Sorvino's first screen performances, and an early appearance from TV star Debbie Morgan.
The film features a great deal of nudity, sex, drug use, and an explicit act of necrophilia. The film was banned in Finland for the year following its release, and in Norway until 2003. In addition to becoming a cult classic, the film launched a string of Troma films that appeared in the 1970s, 80s, and 90s, many of them becoming cult films that would run on cable TV.
The story follows a detective who takes on a murder case, complicated by a diverse group of suspects and a lot of sexual situations.
Lloyd Kaufman, co-founder of Troma, has a cameo appearance as a hippie.
Reception
Edit
During an interview featured in the Special Edition of the film's DVD, Allen Garfield claims that Cry Uncle! is Oliver Stone's favorite comedy. The film would be liked by moviegoers and would become a cult classic.
References
Edit
External links
Edit