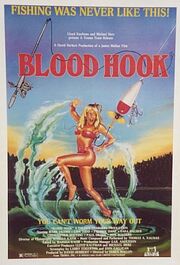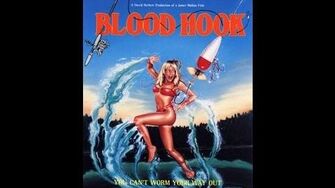 Blood Hook is a 1986 horror film distributed by Troma Entertainment. The film was premiered at the MIFED Film Market in October 1986 and released in the USA in April 1987.
The plot of the film revolves around a murderer killing fishermen with an over-sized fishhook during a Wisconsin fishing festival. The movie was shot on location in the community of Hayward, Wisconsin; the town's landmark giant fiberglass muskie is prominently featured in the film. The production was originally entitled Muskie Madness, and many of the films crew will still refer to it by that title, however when picked up for distribution Troma insisted the title be changed. Though very much a low-budget production Blood Hook is distinguished from the other slasher flicks of the time by its quirky sense of macabre, tongue-in-cheek humor.
Mark Jacobs ........Peter van Cleese
Lisa Todd...........Ann Colbert
Patrick Danz........Rodney
Sara Hauser.........Kiersten
Christopher Whiting...Tom 'Finner' Finnegan
Don Winters.........Leroy Leudke
Paul Drake..........Wayne Duerst
Bill Lowrie.........Evelyn Duerst
Sandy Meuwissen.....Beverly 'Bev D.' Duerst
Dale Dunham.........Denny Dobyns
Paul Heckman........The Sheriff
Don Cosgrove........Roger Swain
Bonnie Lee..........Shiela Swain
Greg Nienas.........Irving 'Irv' Swain
Julie Vortanz.......Ruth-Ann Swain
Donald Franke.......Grandfather van Cleese
Ryan Franke.........Young Peter van Cleese
Dana Remker.........Dickie Duerst
John Galligan.......Emcee
Ron Kaiser..........Emcee
Production
Edit
Director Jim Mallon was inspired to make the film after acquiring 400,000 feet of outdated news stock film from a local television station that had recently switched to videotape and they were just going to throw the film out. Although the film wasn't successful, Mallon and composer/key grip Kevin Murphy later went on to work on the popular cult television program Mystery Science Theater 300-. Movie poster illustrated by artist Tricia Zimic.
The film has been released on VHS by several companies including Paramount Home Entertainment and Troma Entertainment. It was released on DVD as part of the Troma Triple B-Header set in 2004.[1]
Other Uses
Edit
The film was used as background footage in the NBC television series Parks and Recreation: Season 5, episode 5. The cast is watching the film on a projector screen during a Halloween party, however the name of the film they are watching is referred to as "Death Canoe 4: Murder at Blood Lake."
References
Edit
External links
Edit